View this email in your browser
Save the Date – Fall Meeting
Saturday, September 24, 9:30 @ American Legion
We'll hold our fall meeting on Saturday, September 24 at 9:30AM at the American Legion, 194 Lexington Street.  Our meeting will be in person – should you require accommodations, please email woburndems@gmail.com as soon as possible so we can assign volunteers for assistance.

Our fall meeting will be very important for two reasons:

1) the State Election is ahead – our post-primary meeting will focus on organizing to support Democrats in their races into November!

2) the WDCC membership will be presented with the By-Laws Committee Report with revised WDCC By-Laws for a vote. The new by-laws reflect the most recent Massachusetts Democratic Party Charter and will bring our committee into the modern era.

Regarding the by-laws, our new by-laws include that any changes to the by-laws must be circulated to the members 30 or more days in advance of the meeting when a vote will be held.  To meet that requirement, the proposed by-laws are included here for your review and are also posted on our website, www.woburndems.org.  Members of the By-Laws Committee:

– Anthony Langone, Jr., Chair; Pat Deal, Carol Donovan, John Heslin, Jennifer Hess, Jennifer Jones. 

Please direct any questions you have on the proposed by-laws to Anthony Langone.  The Massachusetts Democratic Party and their counsel have reviewed our by-laws and found them compliant with the Charter of the state party.

Also planned for our September meeting, for any members of our Ward Committees who found your ward was changed due to reprecincting, we will formally move you to your new ward and complete the membership paperwork.

Early Voting and Vote by Mail in Woburn
Early voting and Vote by Mail is coming soon for Woburn voters.  You may have already received information in the mail from the Secretary of State to apply for Vote by Mail.

Early voting in Woburn will take place at the Old Wyman School, 679 Main Street.  The following early voting schedule was confirmed with Woburn City Clerk Lindsay Higgins:

 State Primary Early Voting
– Saturday, August 27th 8:00 a.m. to 1:00 p.m.
– Sunday, August 28th 8:00 a.m. to 1:00 p.m.
– Monday, August 29th 9:00 a.m. to 4:30 p.m.
– Tuesday, August 30th 9:00 a.m. to 4:30 p.m.
– Wednesday, August 31st 9:00 a.m. to 4:30 p.m.
– Thursday, September 1st 9:00 a.m. to 7:00 p.m.
– Friday, September 2nd 9:00 a.m. to 1:00 p.m.  

State Election Early Voting  
– Saturday, October 22nd 8:00 a.m. to 1:00 p.m.
– Sunday, October 23rd 8:00 a.m. to 1:00 p.m.
– Monday, October 24th 9:00 a.m. to 4:30 p.m.
– Tuesday, October 25th 9:00 a.m. to 4:30 p.m.
– Wednesday, October 26th 9:00 a.m. to 4:30 p.m.
– Thursday, October 27th 9:00 a.m. to 7:00 p.m.
– Friday, October 28th 9:00 a.m. to 1:00 p.m.
– Saturday, October 29th 8:00 a.m. to 1:00 p.m.
– Sunday, October 30th 7:30 a.m. to 11:30 a.m.
– Monday, October 31st 9:00 a.m. to 4:30 p.m.
– Tuesday, November 1st 9:00 a.m. to 4:30 p.m.
– Wednesday, November 2nd 9:00 a.m. to 4:30 p.m.
– Thursday, November 3rd 9:00 a.m. to 7:00 p.m.
– Friday, November 4th 9:00 a.m. to 1:00 p.m.

If you choose to vote by mail, you can mail your ballot (recommended to allow 7 days for out of town), hand deliver your ballot to the City Clerk's Office, hand deliver your ballot at the polling place during any early voting hours, or use one of the lockboxes at the rear/accessible entrance to City Hall (one box is installed on the building; one is a freestanding lockbox – both are checked several times a day and both are secured). 

You can check the City of Woburn website for information about early voting and Vote by Mail – right now they are providing links to the Secretary of State website for applications and information.  The last day to apply for a mail ballot for the primary is Monday, August 29.  Check your voter registration status and polling location here. Due to reprecincting in Woburn, your polling place/ward may have changed.

Apply to vote here.

Thank you to those of you who will be working the polls on election day and early voting!

Massachusetts Democratic Party Action:Day of Action Canvass in New Hampshire, Saturday, July 30
The Mass Democratic Party Women's Outreach and the Campaign Services Sub-committees are co-hosting a trip to New Hampshire for their state-wide Weekend of Action.  Join friends from Massachusetts on Saturday, July 30th in Nashua at 10AM to canvass, phone bank and talk to as many voters as possible to make sure they come out to vote on November 8th and keep New Hampshire BLUE.  

To join them, sign up here.  When asked which organization you are joining, please list Mass Dems.  If you have questions, reach out to DSC members Mehreen Butt or Amanda Smith.

If you are interested in volunteering locally, or if you are organizing for a candidate or issue, email WoburnDems@gmail.com and let us know!

Be SMART for Gun Safety Presentation August 17, 7-8:30pm, Woburn Public Library
WDCC Member Diane Scinto shares the following program information:

Be SMART program helps parents/caregivers normalize conversations about gun safety and steps to prevent gun deaths and injuries in homes. Sadly, the leading cause of death for children and teens are caused by firearms. 

Many parents are concerned about their children's safety. This event evolved because parents in our community requested some guidance. So, please share the invitation with family and friends who will find this information helpful.

It is very important that everyone use the RSVP Link: https://tinyurl.com/2sby74ar

What is planned for the presentation?
*Learn about one family's tragedy.
*Explaining the Be SMART steps
*Demonstrating role playing activity on how to ask about firearm storage for the safety of children and teens visiting.
*Information about secure storage notification policies in MA schools.
*Hearing from law enforcement about MA safe storage laws.



 2nd Annual Juneteenth Woburn Re-Cap
Thank you to our members who worked so hard to put on a fantastic Juneteenth Woburn event on Saturday, June 18 at the Woburn Public Library!  The attendance surpassed last year's event, and so much more was included this year, such as food, music, beer garden, art exhibition, photo booth, not to mention two outstanding speakers: keynote speaker Michael Curry, Esq. CEO of the Massachusetts League of Community Health Centers and a discussion with Civil Rights Activist Dr. Bernard Lafayette. 

A very special thank you to Phil Gordon, Deputy Director at Social Capital Inc (SCI), for his outstanding effort to organize the event.  In addition to SCI and our Committee, several organizations joined in planning this year's event including the City of Woburn, Woburn Public Library, St. John's Baptist Church, Woburn Welcomes, Woburn MHS embRACE Club, Woburn MHS Spectrum Club and NAACP Mystic Valley Branch. 

We were joined by Mayor Scott Galvin, State Senator Cindy Friedman, State Representative Richard Haggerty, and State Representative Michelle Ciccolo, along with many members of City Council and School Committee and several candidates on the fall ballot. Woburn Public Media Center recorded the event which is available on YouTube.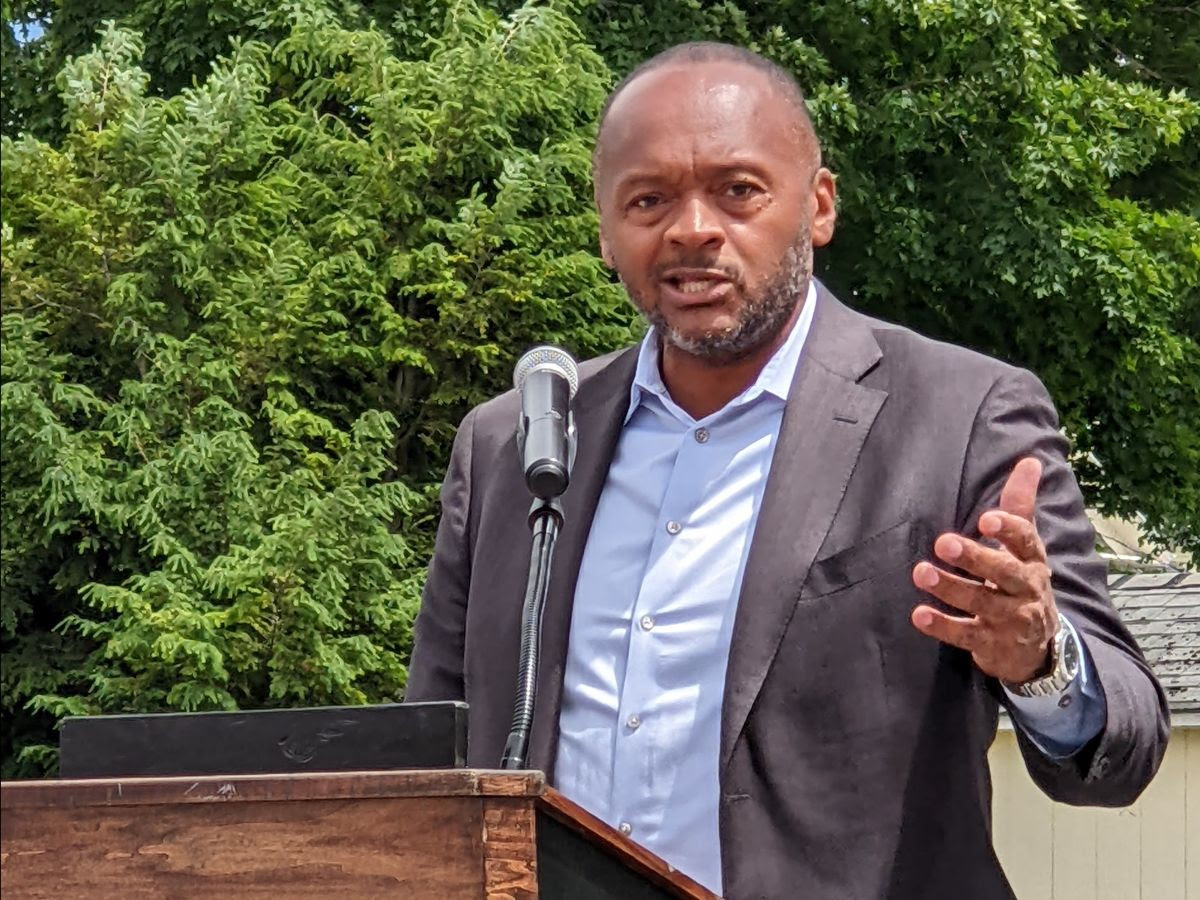 Photos above: Juneteenth Woburn artwork by Joey James; art by Jasmine Milton; Dr. Bernard Lafayette's discussion, moderated by Andrew Lipsett; Phil Gordon, Deputy Director of Social Capital Inc (SCI) and the lead organizer for Juneteenth Woburn; Keynote Speaker Michael Curry, Esq., CEO of the Massachusetts League of Community Health Centers.
How are Massachusetts Democrats planning to win in 2022? Check out the Blueprint to '22 and commit to volunteering this year!
Support the WDCC through ActBlue
Email the WDCC